Bone and Joint Week 2022
12-20 October 2022
Let's take action on #MSKEquality
This year, we are supporting the Arthritis and Musculoskeletal Alliance (ARMA) and sharing a call for action on MSK inequalities during Bone and Joint Week.
For some people in the UK there are still unfair and avoidable inequalities in their musculoskeletal health and in their access to and experiences of health services. Poorer MSK health affects more women than men. It affects more people with lower income. It affects more people living in deprivation. It disproportionately affects some ethnic groups. It affects young people. It affects older people. And the challenges in the cost of living may deepen health inequalities.
It's our ambition to reduce health inequalities in musculoskeletal health. We know that this is an ambition shared by many. The NHS long term plan. The BestMSK Health Collaborative. The Office for Health Improvement and Disparities. Our members. Our followers.
We can drive change by listening to and focusing on the most excluded communities so that there is equity in access, experiences and outcomes. We can drive change by working in partnership. Let's take action to increase MSK health equality.
Visit ARMA's Bone and Joint Week webpage for more information.
How you can take action – support Bone and Joint Week
2. Recommendations for action: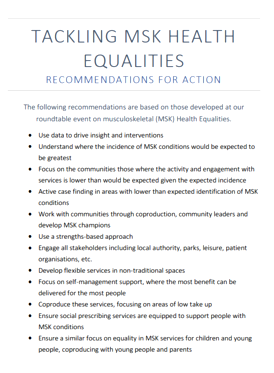 Download our one-page recommendations.
3. See our resource page.
It includes resources for MSK equality on social deprivation, ethnicity, sex, gender and sexual orientation, health literacy and education level, children and young people and webinars.
4. See musculoskeletal health inequalities case studies:
Southwark: This Southwark case study supports people with musculoskeletal conditions (eg back pain knee pain) with water-based exercise. Results – 67% participating reported improvement in symptoms. Watch the testimonials and feedback in the case study.
Kingston: This case study includes Kingston – a personalised home exercise programme using volunteers and AI for older adults resulted in a 30% reduction in pain and 57% of people reported improvement in symptoms. Includes a logic model.
Camden: 34% of Camden's population are from Black, Asian and other communities, with prevalence of musculoskeletal conditions at 46%. Read a case study on overcoming barriers to accessing physical activity for the local community.
5. Improve your knowledge of health inequalities
….with this free learning resource:  https://www.fairhealth.org.uk/home.